January 15, 2017 "Great Blue Heron" 4.6 Miles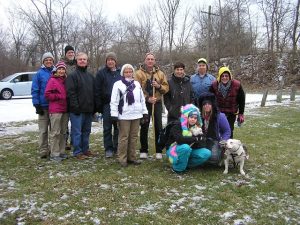 We have had a warm up the past week but not enough to melt the covering of ice on the bike path. Twelve hikes took the challenge, all have hiked the Hennepin before but not all this section. Two years ago we set a record for a January hike, similar conditions and same area, with 28 people.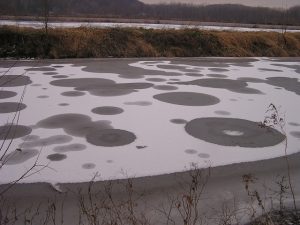 Threats of another ice storm held some hikers away today.
Eagles were spotted near the pools that had some open water. The long stretches between locks were completely ice covered. Odd designs were noticed on the ice, aliens must have made these snow circles. Hikers today were treated to hot chocolate or coffee, apple cider donuts, and cookies. That really hit the spot for a cold day!
Feb 19, 2017 "Bald Eagle" 5 Miles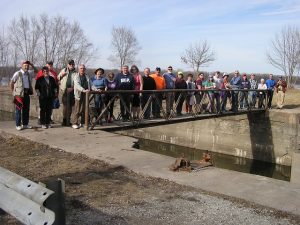 With the temperature in the upper 60's, is this still winter? We have 27 hikers today taking advantage of this warm sunny day. As we shuttled to Lock 32 we noticed that most of the canal access parking lots were full.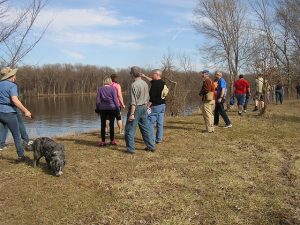 Others too were out, fishermen, dog walkers, bicyclists, and one youngster kayaking, even turtles sunning on the logs. My signup sheet showed we had several new hikers today. The cities of Oglesby and Granville were represented. The Argus Dispatch had two reporters hiking with us doing a news article for their paper. No ice on the river, no eagles! We spotted them on last month's hike at the lock 6 area. Last month we finished our hike with hot chocolate, today a bottle of cold water was welcome.
March 19, 2017 "Barred Owl" 4.2 Miles -18 Hikers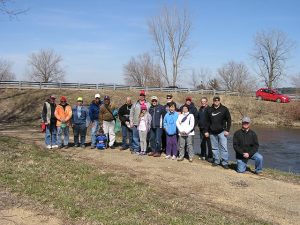 We need larger parking lots for these large groups, 19 hikers today. A trailer with 3 horses arrived and they had to park along the highway.
We did leave the lot almost empty when we all drove to bridge 62. Four vehicles shuttled the group to bridge 59 for the start of our hike. Another sunny day for our hike with the temperature not quite as warm as for our February outing. The trail was in very good condition. The canal crew did a great job of clearing away the brush and growth along the path this winter. Our youngest hiker, Eli, was a little disappointed as he did not see any ducks. He did see one squirrel. We did not have the Powers leading the way today but Phil was a good substitute. He had to rush to set up a table with treats at the end of the hike, we all needed that little extra pick-me-up.
April 23, 2017 "Raccoon" 5.4 Miles -17 Hikers
They say this is a 5.4 mile hike but a few of our hikers came up with over 6 plus miles on their trackers. Two years ago we had a drizzle for this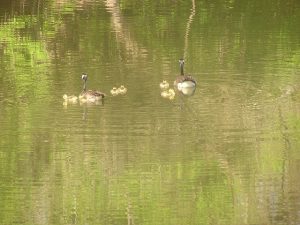 hike, today sunny and warm. I would opt for the cooler day. This hike takes us through the peat bog area, a long stretch with no shade. We met a lot of others enjoying the canal today, fishing, walking, kayaking, and canoeing. A pair of geese had their 6 baby goslings out for a swim at the logon at the visitor's center. That was a welcome sight which meant it was only a short distance to bridge15 where Steve was waiting with snacks and drinks.
May 21, 2017 "Indigo Bunting" 4.9 Miles -9 Hikers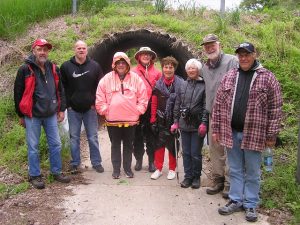 What's with this weather? We should not be wearing jackets today. As we came to Rock Falls the temperature dropped and we had a drizzle. The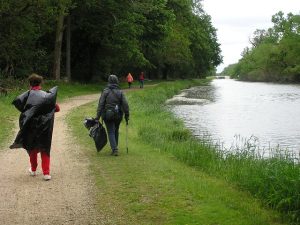 Bridge 47 parking lot is too small. Cars were already there but I was able to squeeze my vehicle in. Recent storms had brought down a lot of trees and branches and we noticed that that trail had just been cleared. The cottonwoods were releasing their fluff. In one spot it looked like a snow accumulation along the path. Too cold for a swim! We came across a bike rider with full gear that was in water waist deep. He refused our help to get him out, so we called 911. We waited till help arrived. Lock 33 was not the end for a few of our hikers. They did the walk over the new bike/walk path over the Rock River.
June 11, 2017 "Wood Duck" 3.2 Miles – 13 Hikers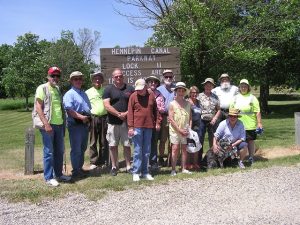 Heat wave! Last month we were cold and today we are looking for shade and some breeze. One of us lost a hat in the canal when a breeze did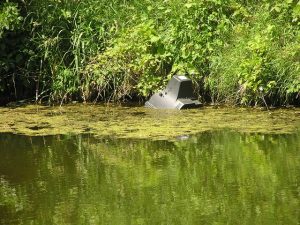 come! This is a short hike with 7 locks along the way. There was a drowning in Bureau Creek today. We saw a small group fishing below us as we crossed the bridge at Lock 12. It sure looked nice. Heard on the news that they went for a swim and one fellow went under and did not come up. We have seen items dumped in the parking lots but here was a TV in the water. Not the way to get rid of an old TV! We could have used more water today. Everyone brought water but at the end of the hike all the extra water in the cooler disappeared.
July 16, 2017 "Raccoon" 3.8 miles, 5 Hikers and 1 rowing a boat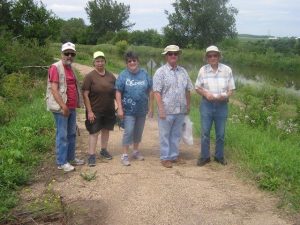 Mid July, ever one has too many activities planned and I am included. It was a hot day but 5 hikers showed and one with a boat. They did not have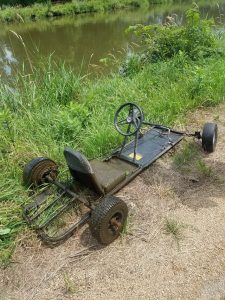 much to report but did notice that a go-cart was pulled out of the water. Most likely someone had used it on the ice during the winter and then left it. I did check to see how our boater made it through the tubes. It is difficult to maneuver a boat or kayak against the current in those tubes. He had no problem, he just went downstream.
Aug 20 2017 "Woodcock" 3.5 Miles 8 Hikers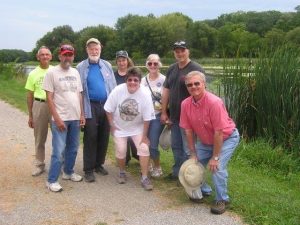 The weather report said sunny and temperature to be in the lower nineties. We were glad it was wrong. All of us had showers on our way to
Geneseo. The temperature dropped some and it remained cloudy for our hike. A few of us spotted black bears across the canal! Those cutouts look real. We noticed that the locals must have had a cleanup in the area, the trail was clean. The garbage cans at Lock 24 were full. Lock 24 is in bad shape, those timbers in those locks are falling apart.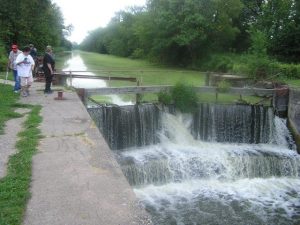 Sept. 17, 2017 "Cottonwood" 4.1 Miles 11 Hikers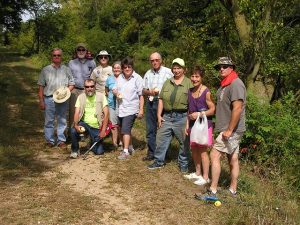 Very pleasant today for our hike. We welcome new hikers and today we were joined by Rhonda DeSplinter from Annawan.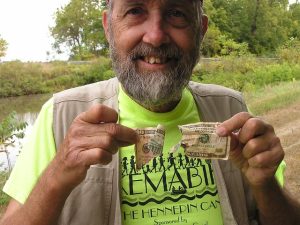 The trail had been recently mowed. No mosquitoes! Last year we had swarms attacking us and it did not help if you went fast. Seems that this area does not get a lot of use as it is not close to any large towns. The trail was free of trash but the two parking lots along the way were loaded. Wayne Leader got rewarded for his cleanup efforts. While we were gathering cans and bottles from one lot Wayne found both haves of a ten dollar bill. It was cut in two by the mower but the bank will give you a new none for it.
October 15, 2017 "Water Snake" 4.8 Miles – 15 Hikers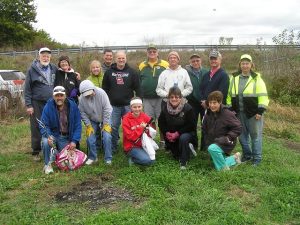 Cloudy and with a brisk northwest wind prompted a few of our hikers to don their winter coats.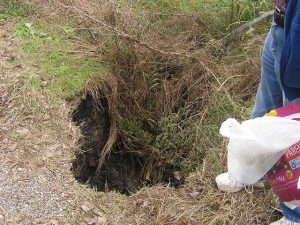 Once our fifteen hikers got moving the trees to our north provided a wind break, it felt a lot better. New to our group today were Don and Vicki Guisti and their grand daughter, Abbey. Along the bike path we came across a large hole and water from the canal was pouring into it. Something like this can become major, a collapse in the bike path would result and loss of water in that pool. Be sure to report any leaks, even if minor. Our group did a good job of picking up litter along the way, the areas around the parking lots having the most. After our hike, four of our group did a second cleanup at one of the lots. We could not believe what a few shrubs and tall grass could hide. We filled up all our remaining bags. We have more to pick up at another time.
Nov. 19, 2017 "Red Winged Blackbird" 4.7 Miles – 9 Hikers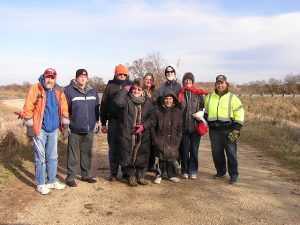 Last hike for the year 2017, we lucked out with no bad weather for the year.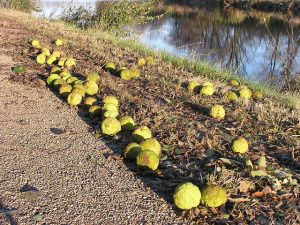 Seems we always have one bad day, ice storm, deep snow, rain, high winds, too hot or too cold. The sun was shining, temperature in the thirties, but breezy in the open areas. Shotgun deer hunting season was on and we met hunters looking for a deer that was shot. Several years ago we heard shots and we saw a deer crossing the canal in front of us. Another year a hunter yelled at us, we were making too much noise and scaring the deer in that same area. This area was great for hiking. The trail was well kept and we found only a small amount of garbage. The only litter on the trail were the hedge balls (Osage oranges). Normally we don't see that many, but this area had an abundance.